Support Your Candidate
Reinforce the loyalty of your supporters with the help of exciting campaign signs and advertise your political event to the wide audience with CampaignSigns4u.com! We understand the importance of political lawn signs for your campaigns; therefore we can offer a wide variety of design samples so that you could choose the most appropriate option and style. We will help you to win valuable votes with our political yard signs!
"...we feel absolutely qualified and confident to meet your campaign needs at elections or other political events..."
Political signs can efficiently characterize the candidate. A low quality campaign yard sign and its poor presentation or design can easily bring to light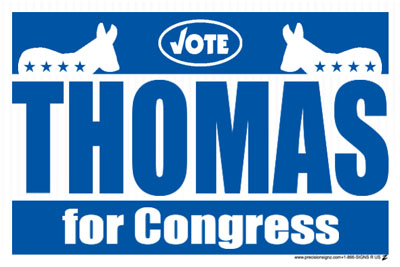 the true worth of your campaign. We are very attentive when it comes to the quality of our products. At the same time we offer the most affordable prices on the market and our campaign signs come in a great variety of different sizes and materials – so you can select the most suitable option for any campaign budget, even for the tightest one. We can assure you that at our online store you will find the highest quality and incredibly competitive prices for political yard signs!
The Staff at CampaignSigns4u.com has years of experience in printing political lawn signs and supportive marketing issues, so we feel absolutely qualified and confident to meet your campaign needs at elections or other political events. Have a look at our yard sign templates and let us know how you want to customize the required information such as the name of the candidate, position, district, disclaimers and other essentials.
When starting a campaign it is crucially important to make potential voters notice the candidate and speak about him/her. Focus voter's attentions with political yard signs which can be placed in the most suitable places due to a great variety of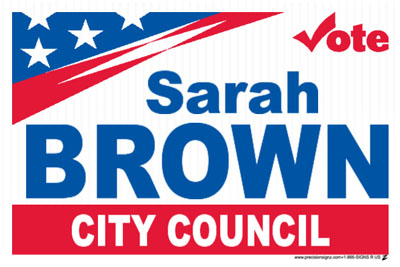 materials and styles. It is necessary to note that some political signs are meant to be long lasting and are placed in a more secure position. Others are temporary – they are designed in such a way so they won't cause any harm to the ground or grass where they are located.
CampaignSigns4u.com offers a range of options but the final word still rests with our clients. Choose the most suitable variant for your political campaign consider the following options. You can use banners which are flexible, durable, portable and can be placed practically anywhere. Alternatively you may pick up car magnets and demonstrate your contact information on the go. Our online store offers other sign options such as plastic bag signs which can be recycled with ease, corrugated plastic signs or road side signs that are seen from longer distances, can drive potential voters and much more. You may also want to get more information about our poster board signs. They are a quick durable way for your supporters to spread your message. Contact our customer support and we will help you pick the best solution for your campaign and budget!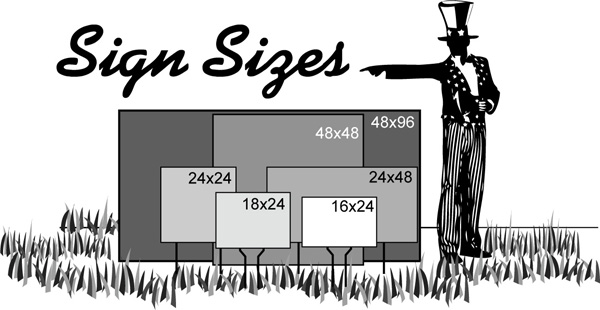 Fill out the Quote form or give us a call (309-269-8680) to realize why our customers can't stop coming back to us for their Poly Bag needs!
"...see the prices you're missing out on!"